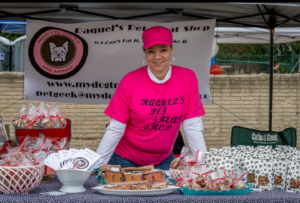 Hi, I'm Raquel and I am the owner of Raquel's Pet Treat Shop. My online store was created to share my natural pet treats with pet owners who believe in a good quality treat for their loved ones. I love my furry pets, and I know you love yours. Why not give them a treat that you can believe in. I slow bake my treats, that way your furry friends will get that perfect crunch and I don't use any harmful preservatives. You will also find on my site gourmet natural pet treats for those special occasions.
I have 8 plus years of experience baking natural treats, and they are pet tested owner approved. My motto is "If I can't eat it, I won't make it". I personally taste the treats to make sure they are perfect for your pet to enjoy. I believe in my pet treats and that is why they are priced so anyone can afford them. Order some today and watch your pet enjoy them to the last bite.   
We love our customers and welcome your feedback and suggestions. Use our Contact Us page to tell us what we're doing right or what we can improve on.
Keep checking back for updates to this site